November 17,2018
4 Signs Theres Something Wrong with Your Tap Water
As environmental concerns continue to emerge, families around the country often suspect that their fresh water might not be so fresh. Most cities do an excellent job keeping their water supply clean and safe for public consumption. However, there are ways that appropriately treated water can become contaminated on it's way to your kitchen sink, toilet or shower. At Mr. Rooter Plumbing of Youngstown, we provide professional residential and commercial services in Youngstown, Boardman, Hermitage, Poland, Howland Corners, East Liverpool, Girard, Austintown, Ellwood City, New Castle, Niles, Champion, Warren, Struthers and Cortland, Ohio communities. Our team of certified, licensed and insured plumbers enjoy providing local families and businesses with quality water and efficient plumbing systems. Are you concerned that your water might be contaminated? Here are a few warning signs to watch out for, and what you can do to get your water back under control fast.
Theres a Metallic Taste
If you taste a tinge of copper or iron every time you take a drink from the tap water, theres a good chance your water has an imbalanced number of minerals and metals. Iron, manganese, zinc and other metals can make it's way into your water supply from a variety of sources. The issue could be the result of corroding pipes in your home plumbing system or the city water line. If the metallic taste only occurs with warm water in the shower or while washing dishes, the problem could be rust or metallic sediments in your water heater. If thats the case, flushing or replacing your tank should remove the excess metal.
You Smell Strange Odors
There should never be foul smells in properly treated water. If you turn your head away every time you run the faucet, it's probably a sign that a bigger problem exists in your plumbing system or at the source of your fresh water. Metallic smells could be from corrosion in your tank or pipes, as mentioned previously. A molding or mildew smell could point to algae in the pipes or your city water supply. And an odor thats like rotting eggs could be a warning that bacteria is proliferating in your plumbing.
The Water is Milky or Cloudy
Hazy water also indicates that you're experiencing a plumbing issue, as normal healthy water should always run clear. Test the water by pouring some water into a clear glass and leave it alone for several minutes. If the cloudiness disappears, then the cloudiness is probably caused by trapped air. Highly pressurized water can create a lot of bubbles, which will make the water appear momentarily milky. Hazy water could also be caused by an overabundance of magnesium and calcium, also known as hard water. Theres also a small chance that the cloudy water has deposits of dirt or sand, in which case you should contact a certified plumber for an inspection as soon as possible.
Your Tubs and Sinks are Stained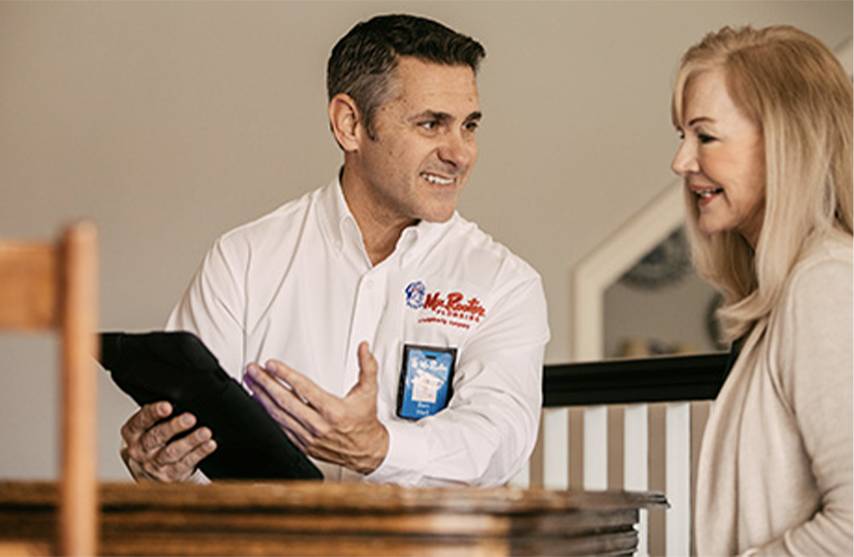 Some stains can be caused by food or other materials that hold color or dye. However, if you find yourself trying to scrub away difficult to remove stains from your tub or sink, despite frequent cleaning, there could be underlying trouble. An orange stain could indicate that theres too much iron and copper in your water supply. Your pipes might have become rusted or corroded and will need to be repair, lined or replaced. If the stains are chalky, then it's likely created by deposits of magnesium and calcium, a red flag for hard water. In this case, installing a water softener can fix the problem.
Need a Certified Plumber? Call Mr. Rooter Plumbing of Youngstown Today
Is it time for your next plumbing inspection, pipe repair, clog removal, water softener installation or other maintenance service? Then call the experts at Mr. Rooter Plumbing of Youngstown, Ohio, and schedule a convenient plumbing service appointment with a certified plumber in your neighborhood.