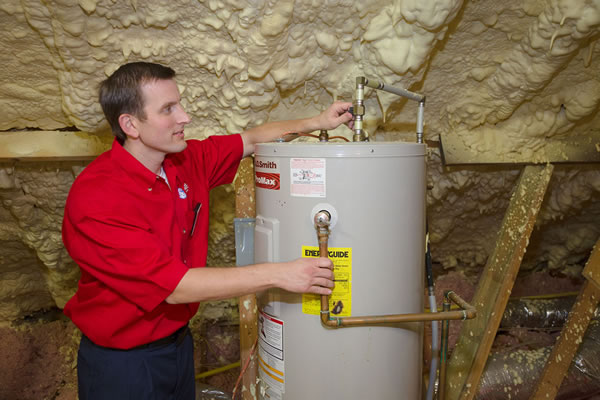 Water Heater Installation in Youngstown, OH
Professional Water Heater Services in Youngstown
Having access to hot water in the chilly cold winters is nothing less than bliss. However, having a water heater break apart due to certain issues can be an added headache to your daily chores. If you have recently found out that your water heater isn't producing the required amount of hot water, it's time for you to hire Mr. Rooter Plumbing services for water heater installation. 
The services provided by our expert plumbers in Youngstown for water heater repair in Youngstown include damage assessment along with solutions for the same at the budget amount. Normally, any water heater comes with 10-12 years of life expectancy. However, water heater installation in Youngstown isn't some D.I.Y. It requires professional help from the service providers like Mr. Rooter Plumbing for proper water heater installation in Youngstown. 
Water Heater Replacement Services in Youngstown, OH
Water Heater Replacement services provided by Mr. Rooter Plumbing require the removal of the old heater to be replaced with a new one. This isn't something that can be done single-handedly without any help from professionals for water heater installation. Water heater replacement in Youngstown not just requires handling the heater but also the gas and electric connections that could otherwise pose dangerous threats. Mr. Rooter Plumbing employs the and well-trained professionals to handle all water heater repair services in the city. 
Tankless Water Heater installation at an affordable cost
Tankless water heater services are designed to heat the water directly instead of using a storage tank. Mr. Rooter's Plumbing uses the modern techniques to install the tankless water heater in a safe and effective way with minimal damage to your property during water heater installation. 
Water Heater Repair in Youngstown, OH
Electric Water Heater installation now safer
Installation of any electric water heater is same as any normal water heater. Water heater repair requires the professional by Mr. Rooter Plumbing to install the same with the use of proper manual as every brand has new features that require proper understanding. Water heater repair in Youngstown by our experts is done after assessing the situation with all the required elements to be considered during the repair or installation process. 
During the wiring of the newly replaced electric or gas water heater needs to be kept at the optimum temperature which is around 120 degrees. This eliminates any risk that could occur from scalding for water heater replacement. When you hire Mr. Rooter Plumbing for your water heater replacement in Youngstown, make sure you understand the degree of damage faced by your heater. 
Coordinate and communicate with our service provider to understand whether you require a complete replacement for the water heater or just a simple repair. If your heater requires replacement, make sure you consider the following options before getting a new one for yourself which includes unit size, energy efficiency, fuel type, and cost as per your budget. With the help of Mr. Rooter Plumbing expert, you can determine the right type of water heater suited to your requirements.