March 22,2021
How to Change the Hot Water Heater Temperature
Is the water coming from your faucet or showerhead too hot or cold? Some people may assume that a scorching or frigid water supply is a sign of a dysfunctional water heater. However, in many cases the temperature simply needs to be readjusted. At Mr. Rooter Plumbing of Youngstown, we offer premium commercial and residential services for local Youngstown, Ohio property owners, including hot water heater installation, repair and replacement. Do you suspect that your water heater temperature needs to be changed, but aren't sure what to do about it? Here are the steps for changing the hot water heater temperature safely and accurately.
Why Is it Important to Adjust the Temperature on Your Hot Water Heater?
The temperature of your hot water is extremely important to the safety and wellbeing of your family. Water that is too hot could place your loved once in danger of burns. This is especially true for households with young children, older adults or people with certain disabilities. On the other hand, if the water inside the tank is too cold, it could harbor harmful bacteria. For best results, it is recommended that the water temperature remain somewhere between 115 and 120 degrees Fahrenheit. If your current temperature is set above or below this range, then it will need to be adjusted as soon as possible to avoid complications or injury.
Gas Valve Water Heaters
Gas valve water heaters are relatively simple to adjust. Locate the knob on the valve and adjust the temperature until it falls between 115 and 120 degrees. Not only will this ensure a safe water temperature, but it can also help you avoid overheating while reducing your energy consumption.
Electric Water Heaters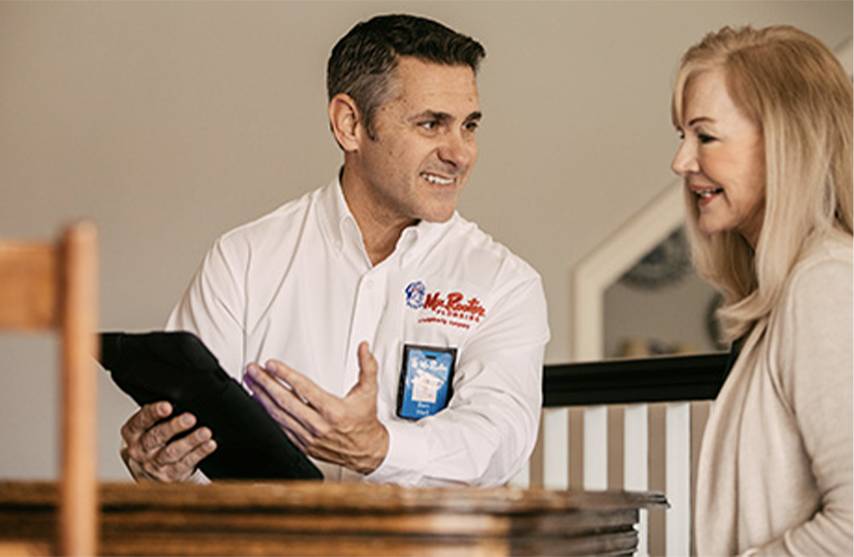 If you have an electric water heater, then you will need to shut of all power to the area first. Skipping this step could be fatal, so make sure you turn off the electricity at the breaker box and ensure that it is safe to proceed. Afterward, the front panel will need to be removed. You should see two thermostats. A flathead screwdriver can be used to manually adjust the temperature settings on both. Make sure they are between 115 and 120 degrees, making sure that the top element is slightly higher than the lower thermostat. Next, replace the front panel and screw tightly to secure. Then, after making sure the area is dry and safe, restore power to the area and test to see if the water temperature from your faucets is within the recommended range.
Are You Having Problems with Your Hot Water Heater? Call Mr. Rooter Plumbing Today
Have you tried to adjust the temperature setting on your hot water heater, but it still refuses to work properly? Then call the experts at Mr. Rooter Plumbing of Youngstown. Our certified, licensed and insured plumbers are ready to restore the condition of your water heater right away. Contact our office for more information about our wide selection of residential and commercial services or to schedule your next water heater inspection, repair, replacement or new installation in Youngstown, Ellwood City, Niles, Grove City, New Castle, Warren, Ohio or a surrounding metro area community.