January 21,2019
How to Fix a Whistling Toilet
Do you have to cover your ears every time you flush the toilet? If your porcelain throne makes a screeching, whistling sound, don't despair. At Mr. Rooter Plumbing of Youngstown, Ohio, we offer high quality residential and commercial plumbing services, including toilet repair, toilet replacement and installation. Are you eager to have peace and quiet the next time nature calls? Then read more and find out how you can finally fix your noisy toilet.
Why Does Your Toilet Make That Awful Noise?
The most common cause of high pitched flushes is a deteriorating fill valve. Each time you flush your toilet, fresh water floods through your toilets tank. A fill valve is the component that either blocks or releases the flow of new water. After a while, this valve can become broken or corrupted, and will cause a wide range of strange vibrations and sounds as it's used.
What is the Solution?
In most cases, swapping out the old fill valve with a new one will do the trick. A certified plumber can have your squeaky tank repaired in no time. Are you inclined to attempt to fix the issue yourself? Go to the hardware store and find an appropriate replacement valve and grab your adjustable wrench from the tool box. Before you begin, shut off the water supply entirely, or you could end up cleaning up a flooded bathroom floor. Carefully disconnect the old supply line and remove the fill valve. Replace it with the new valve, being sure it is at least an inch above the overflow tube. Put the valve shank on the fill valve, and place the fill valve inside the tank opening. Push down on the shank, and use your wrench to tighten the nut. Reconnect the supply line and attach the refill tube and angle adapter to the overflow and turn the water back on. Once the tank has filled completely, test the repair with a flush. If the sound is still present or you notice any leaks, it's best to call a professional who can ensure the success of your project.
Why It's Important to Fix the Problem Now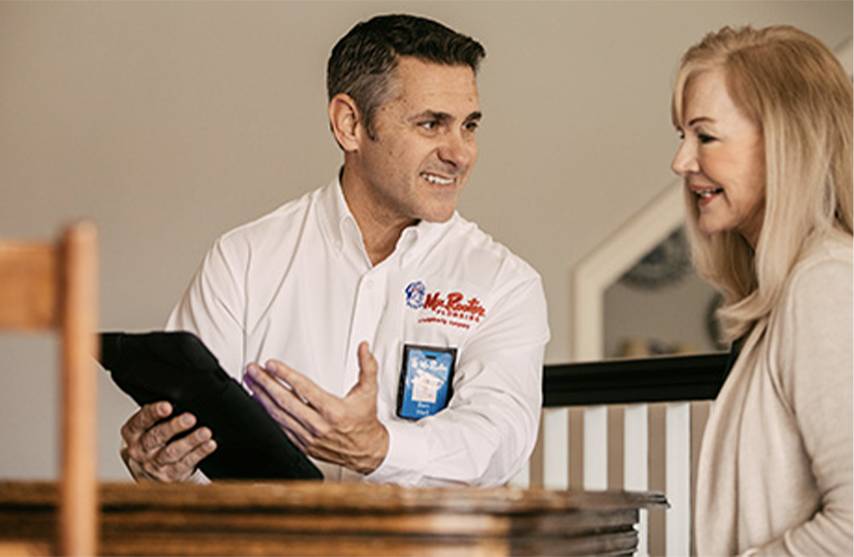 Some homeowners may be tempted to ignore the issue and simply deal with the irritating sounds. However, it's important to keep in mind that this broken valve will only get worse over time. Ignoring the problem could lead to increased water usage, rising utility bills and even an overflowing toilet. Avoid further damage by getting your valve fixed fast, and you'll be grateful you took the proactive approach.
Need a Toilet Repair or Replacement? Call Mr. Rooter Plumbing of Youngstown
It's vital that your new fill valve be installed properly. If done incorrectly, you could suffer from water damage, leaks and other problems down the road. If you don't have the time, experience or desire to perform the repair yourself, then hire an experienced professional who can make sure your toilet works like new. At Mr. Rooter Plumbing of Youngstown, we proudly offer many plumbing repairs and maintenance services for customers in Youngstown, Boardman, Girard, East Liverpool, Howland Corners, Niles, Warren, Struthers, Cortland and Austintown, Ohio; as well as clients in Hermitage, Ellwood City and New Castle, Pennsylvania area neighborhoods. Contact our office today to find out more or to schedule an appointment with a licensed and insured plumber near you.