June 20,2022
Reasons Why Sewer Line Replacement is So Expensive
Did your sewer line collapse? Have you been experiencing clear signs of sewer line damage or leaks? Then you may be worried about the replacement process. Let the team at Mr. Rooter Plumbing of Youngstown set your mind at ease. Our reliable plumbers offer quality residential and commercial services, including trenchless sewer repair and replacement for Youngstown, Ohio, area neighborhoods. Are you wondering why sewer line replacement is so expensive? Read below for some information that can help you make the best choice for your sewer line repair.
Excavation
Since your sewer line is buried beneath the ground, professional excavation may be necessary to get to the damaged pipe for a replacement. Depending on how deep the pipe is buried and the type of terrain on your property, this process can require a lot of time, labor, and specialized equipment. All of this can add up very quickly. When you consider the price of restoring your landscaping to its original condition following the pipe replacement, it's easy to see why the total cost of completion could be significant.
Drywall and Floor Removal
If some of the pipe that requires replacement is located inside the home, then there may need to be some interior demolition to reach the area. This can include tearing drywall, ripping hardwood floors, and removing cabinets. Renovating the construction area after the project is finished can add to the estimate.
Labor Intensive
Digging trenches and installing several feet of heavy metal pipes can be very labor intensive. While some simple plumbing can be performed by one plumber, a sewer line replacement is not a project that a single individual can perform. For this reason, it is usually necessary to pay an entire team to ensure safety, accuracy, and timely completion. However, this can increase the price of the service due to the need to hire multiple highly skilled professionals.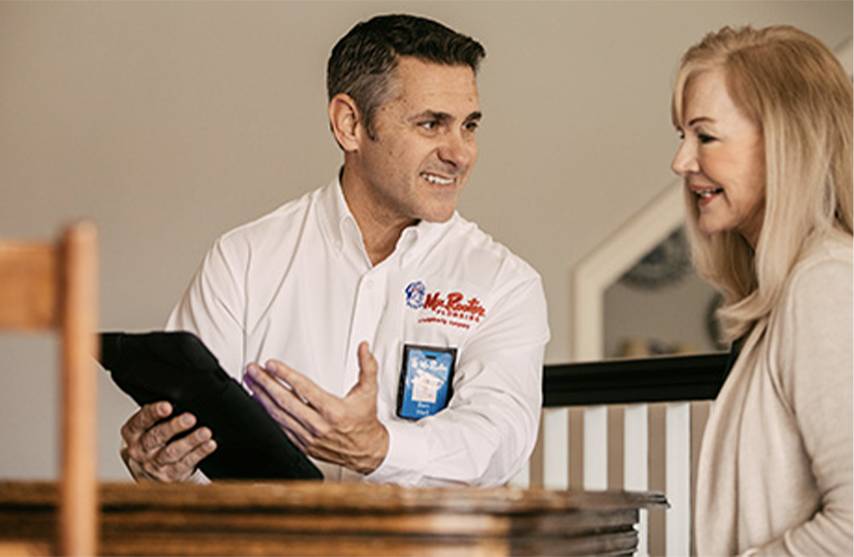 Permits
In many cases, a permit may also be required to perform a total sewer line replacement. If so, then these fees may be unexpected costs that property owners will neglect to consider at the start of the project.
Benefits of Trenchless Sewer Repair and Replacement
While there are rare situations when the old pipe will need to be removed entirely, most issues can be solved using trenchless techniques. Modern plumbers have access to various advanced tools and equipment that offer a new way to fix your pipes without the hassles and expense of conventional methods. A plumber can access the existing sewer pipe through small holes that are dug at either end of the damaged pipe. A new pipe is pulled through the old one, and the plumber can seal up the holes. These techniques are much less disruptive to your yard. There's no need to tear up your grass or concrete slab, and you won't have to worry about adding in restoration and renovation costs for your landscaping and interior. It's also faster and less labor intensive, so it is often more affordable than traditional methods. If you need a sewer repair, be sure to ask your plumber about trenchless options.
Do You Need a Sewer Line Replacement?
Have you determined that trenchless sewer repair or replacement services are a better alternative? Then call Mr. Rooter Plumbing of Youngstown today. Our experienced plumbers can inspect your sewer line and determine which option best suits your needs. Contact our office for more information or to schedule an upcoming appointment with a plumber in Youngstown, Ohio, or a surrounding location.