November 30,2018
Removing Rust Stains from Sinks and Tubs
Do you clean your bathtubs and sinks frequently, yet you can't seem to get rid of the stubborn rust stain near your faucets and drains? It can be incredibly frustrating to work hard at keeping your kitchen and bathroom sparkling, but still have your surfaces appear neglected. At Mr. Rooter Plumbing of Youngstown, Ohio, we enjoy offering advice to help our clients keep their plumbing fixtures beautiful and well maintained. While there are some instances where replacement is the only solution, in most situations the stains can be removed with natural ingredients and a lot of elbow grease.
Choose a Cleaning Method That Works Best for Your Surface
The first step is to know which kind of surface you'll be cleaning, so you dont use chemicals that may have adverse effects. For instance, porcelain and enamel sinks and tubs may become harmed when using acids. Acrylic can also become bleached, so if you have an off-white or colorful hued sink or bath, you'll need to take extra precautions to avoid discoloration.
Natural Ways to Clean Your Tubs and Sinks
Products like bleach and Ajax can remove stains effectively, but in some cases, frequent use of these harsh chemicals can do more harm than good. If you're looking for a more gentle, natural approach to rust stain removal, try these two methods.
- Salt and Lime or Lemon It may sound like the ingredient list for your next cocktail party, but these two substances can work together to get rid of your rust stains once and for all. Squeeze the fresh juice of a cut lime or lemon directly onto the spot. Make sure there is enough liquid to make the salt stick to the area. Sprinkle a liberal amount of salt over the lime or lemon juice, and wait a few hours. When you're ready, take a microfiber cloth, and scrub away the rust stain. It should come off relatively easily. Rinse the tub or sink with warm water when finished.
- Baking Soda and Water Mix enough baking soda with fresh water to form a thick paste. Spread the paste over the rusted area and let it sit overnight, or 6 to 8 hours. Use a washcloth to scrub the paste, remove the rust, and rinse with water.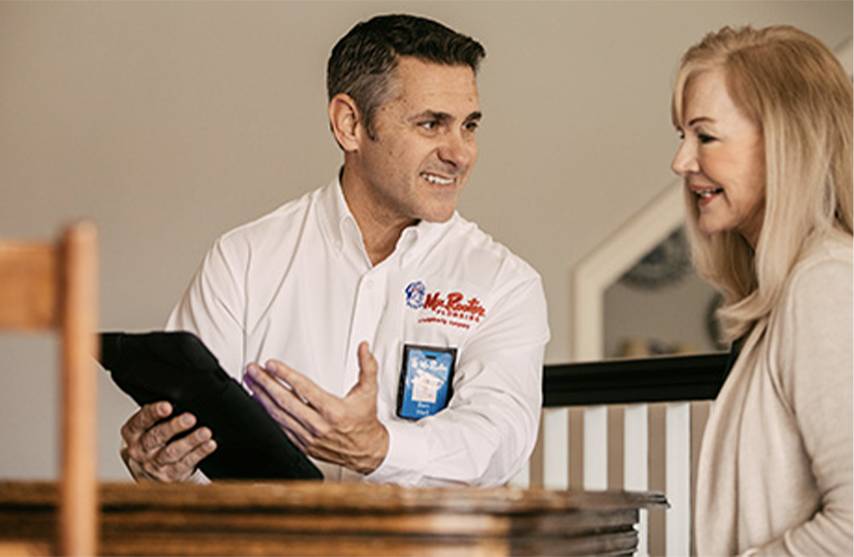 How to Prevent Additional Rust Stains
While cleaning away the stains is an option for most, prevention is always the best method of keeping rust away from your tubs and sinks. There are several possible reasons why you may have rust stains. If the rust is coming from your water, you could have either corroding pipes or a rusting hot water tank. In these circumstances, you'll need to get help from a professional plumber who can conduct a thorough inspection. Another possible culprit is an iron abundant water source, which occurs more frequently for those with well water. In this case, you may need to install a water filter or water softener to avoid more stains. In addition to these precautions, make sure to replace your old metal fixtures if they show signs of wear, and keep aluminum cans and similar metallic items away from your kitchen sink and bathroom.
Looking for a Certified Plumber? Call Mr. Rooter Plumbing of Youngstown
Are you in need of a plumbing inspection, water filter installation, bathtub replacement or kitchen sink repair? Then call the experts at Mr. Rooter Plumbing of Youngstown. Our licensed and insured plumbers are excited to offer both residential and commercial services for property owners in Youngstown, Boardman, Hermitage, Struthers, East Liverpool, Poland, Austintown, Howland Corners, Ellwood City, Warren, Niles, Champion, Cortland and New Castle, Ohio communities. Call today to schedule your next appointment.