December 21,2018
Signs of a Failing Main Water Line
Main water lines are normally made from the highest quality materials, and built to last. Unfortunately, even the most well-made pipes will eventually show signs of deterioration. If you live in an older home, with pipes that were installed decades ago, it's important to understand the warning signs so you can take care of repairs and replacements before major problems occur. At Mr. Rooter Plumbing in Youngstown, Ohio, we take pride in helping our clients achieve safe, healthy and high quality water for their households and businesses. We want you to have the same for your loved ones. If you see the following red flags, it's probably time to get help from a certified plumber as soon as possible.
The Appearance of Rust
Rust is a tell-tale sign that corrosion has begun. If you detect a metallic taste in your fresh water, or notice a brown tinge when running cold water through your faucets, then there's likely rust somewhere in your main line. This means your pipes are susceptible to damage, and are deteriorating quickly. Taking care of the problem now will help you avoid a total collapse, in which case you might experience unexpected flooding and property damage. A water line repair, pipe lining service or new main line installation may be required.
Lower Water Pressure
Have you noticed a significant drop in water pressure when watering the garden, taking showers or rinsing the dishes? While this isn't necessarily a guarantee there's an issue with the water line itself, it could be a signal that a large leak is present somewhere. If you're experiencing low pressure in a specific area of the home, it could be an interior pipe issue. However, if your entire household is having the same problem, the main line may be the culprit.
Rising Utility Bills
Another sign of a leaky main water line is a sudden uptick in monthly water costs. If you notice your bills are significantly more expensive than they used to be, yet your fees have remained the same, the only explanation is that water is being lost somewhere. A plumbing inspection can help you pinpoint the source of your leak and determine whether your problems are coming from a household pipe, or your main water line.
Flooded Yard on Sunny Days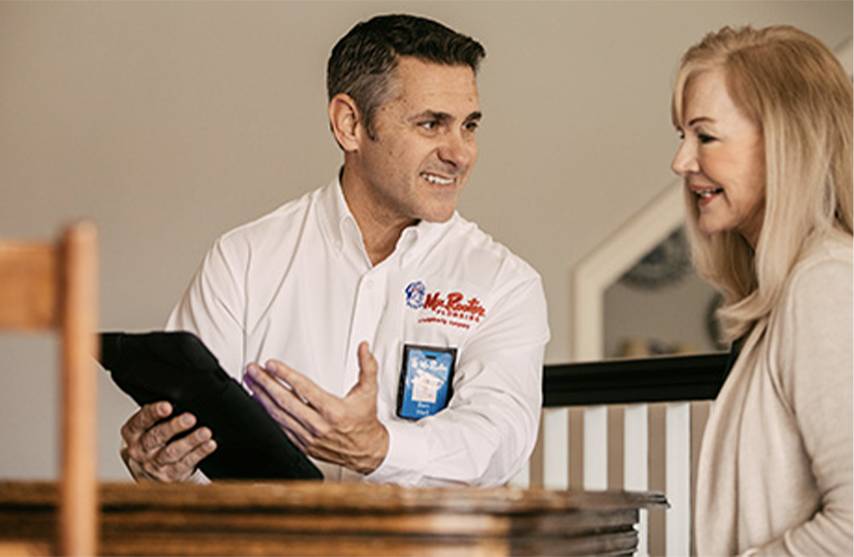 Do you often find yourself sloshing through the grass on your way to the mailbox or driveway? If the skies are clear and bright, and you havent seen rain in days, but your lawn is covered in patchy areas of water, you have a big leak. If the water smells foul, then you could have a sewer line issue. If not, then it's likely main line trouble. Either way, you need to get an inspection as soon as possible, because both situations could cause health issues for family members and water damage to your property.
Searching for a Qualified Plumber Near You? Call Mr. Rooter Plumbing of Youngstown
Is it time for your next plumbing inspection, water leak repair, main line repair, pipe lining service or pipe replacement? Then call Mr. Rooter Plumbing of Youngstown today and get the help you need. Our certified and insured plumbers are happy to deliver high quality residential and commercial services in Youngstown, Boardman, Poland, Howland Corners, Liverpool, Girard, Austintown, Niles, Champion, Warren, Struthers, Cortland, Ohio and other surrounding communities. Contact our office today to find out what we can do for your home or business.