May 15,2021
The Cost to Replace Plumbing in an Old House
If you're buying an old house, you'll want to consider the condition of its plumbing system to avoid unpleasant surprises down the road. While old houses are cherished for their charm, these houses may conceal many plumbing problems. That's why potential homeowners should keep in mind the common plumbing issues typical with older houses as well as the cost to replace plumbing in an old house before making a buying decision. It's a good idea to hire an experienced plumber in Youngstown to inspect the house's plumbing system so that you can have an idea of the costs associated with plumbing replacement. If you need plumbing inspection in Youngstown, you can count on Mr. Rooter Plumbing to help you with performing a comprehensive inspection of the property.
Common Plumbing Issues In Old Houses
Broken sewer pipes: If the house is older than 25 years, there are high chances that it could be facing issues like damaged sewer pipes as a result of tree roots, moving soil, clogs, and corrosion.
Leaking faucets: An old house is more likely to have leaky faucets caused by mineral deposits on the internal parts, corrosion, defective gaskets, and general wear and tear.
Clogged drains: Many years of dirty water, soap, grease, and scum take a toll on a house's drains, causing problems such as smells and drains that back up continuously.
Old fixtures and connections: Outdated fixtures and connections pose a serious risk of leaking and water damage.
Improper installation: An old house's plumbing system may have been installed by an inexperienced plumber, resulting in incorrect connections.
These plumbing issues can burn a hole in your wallet, especially if they catch you by surprise. Let our plumbers at Mr. Rooter Plumbing help you with inspection so that you can know how much you're likely to spend on repairs and replacement.
So what is the cost to replace plumbing in an old house?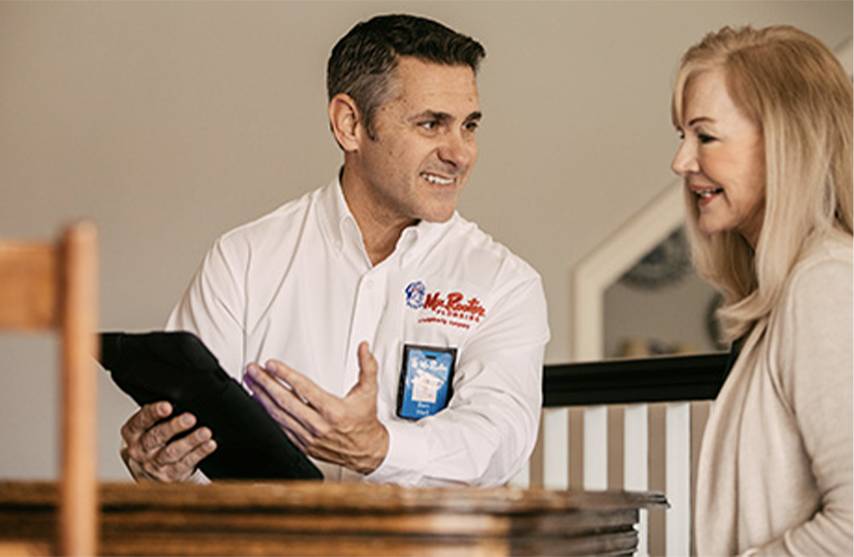 The average cost to replace plumbing in an old house can range from $10,000 to upwards of $15,000. However, this depends on several variables.
Variables That Will Affect The Cost To Replace Plumbing In An Old House
Size of the house: Larger houses will obviously cost more to replace plumbing than smaller houses because larger houses require additional plumbing materials and more hours of labor.
Material of plumbing pipes: You'll spend more money if you opt for copper piping instead of PVC or PEX piping. Copper pipes cost more because they are more durable and strong, so you can expect to spend upwards of $15,000 when using copper pipes.
Location of faulty plumbing pipes: Replacing pipes installed behind the drywall is cheaper than replacing pipes in hard-to-reach areas.
Quality of plumbing fixtures: All fixtures are not created the same in terms of quality. Some plumbing fixtures are more expensive than others. You'll spend more on plumbing replacement if you opt for high-end fixtures.
If you need help with determining the cost to replace plumbing in an old house in Youngstown and the surrounding areas, call Mr. Rooter Plumbing.