June 25,2022
Toilet Leaking at the Base?
Did you walk into the bathroom this morning to find a pool of water next to the toilet? While this is not the best way to wake up, panic is not necessary. There may be various reasons why this occurred, and in most cases, there's no need to replace your toilet. While troubleshooting can be complex for property owners, a reliable plumber can quickly identify the source of trouble and fix the problem right away. At Mr. Rooter Plumbing of Youngstown, we provide quality care for local homeowners and businesses. Our team offers a wide selection of plumbing services, including toilet leak repair and toilet inspections. If you are concerned about the need for a toilet leak repair service, then follow these helpful tips to help diagnose the potential cause of your leaking toilet.
Condensation
In some cases, the presence of water may not be related to toilet issues. For example, if you live in a wet, humid region, it may be the accumulation of condensation forming on the toilet. Take a towel and dry the toilet's base, then flush to see if any water seeps out from the bottom. If it doesn't, you may need to keep a dehumidifier at a safe location in or near your bathroom.
Overflowing Toilet Bowl
Another cause of finding water around the base could be the remnants of a bad clog. Be sure to ask members of your household if the toilet has backed up recently. If so, then this might be the cause of your water mystery. Clean up the area and flush to test for leaks.
Damaged or Worn Out Water Supply Hoses
Your water leak could also be caused by supply hoses that need to be replaced. The toilet may be working just fine, but the old hose has sprung a leak. This fast and affordable repair can ensure that your toilet continues to provide years of dependable use for you and your family.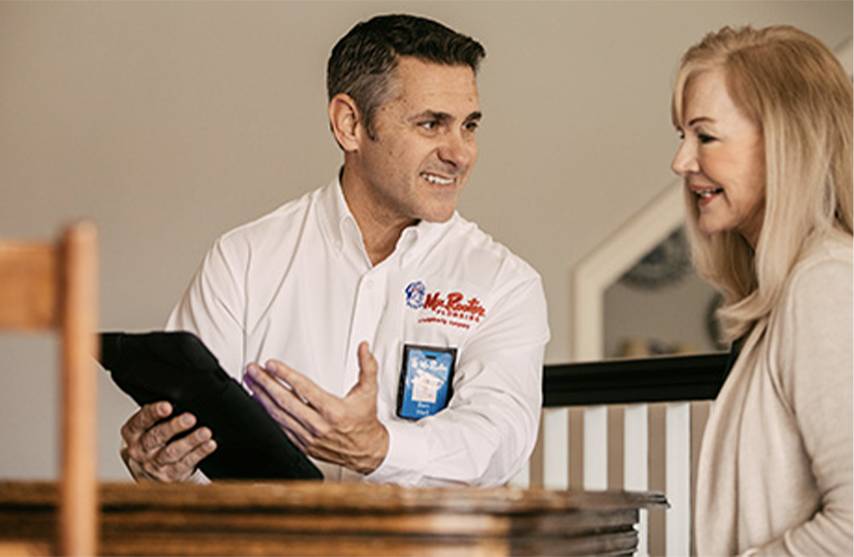 Loose Bolts
If your toilet is improperly bolted to the floor, the wax seal might not be tight enough. This can result in water leaking through the bottom of your toilet. First, check to see if the bolts are missing or loose. If so, tighten them and test to see if this stops the problem.
Bad Wax Ring
If your hoses are fine and your bolts are firm, you might need to replace your wax ring. Most wax seals are designed to last for a very long time, up to twenty or even thirty years. However, if the ring is old, or if it was installed incorrectly, then it could lead to leaks. Dysfunctional wax rings usually lead to a foul rotten egg smell, so if your leak comes with some terrible odors, then this is likely the cause. A plumber can ensure that your wax ring is replaced successfully.
Do You Need a Toilet Leak Repair? Call Mr. Rooter Plumbing of Youngstown Today
Did you follow the guidelines provided above and need help from a dependable local plumber? Whether you need a supply hose replacement, wax ring replacement, or a toilet leak repair, our plumbers have the tools and training to ensure the job is completed correctly. Contact our office for more information or schedule a convenient appointment with a Youngstown, Ohio, area plumber near you.