September 26,2022
Ways to Conserve Water at Home
Climate change and a high global population are significant factors that impact water levels and cost. As water levels go down, the price increases, hence the need to learn ways to conserve water at home. Mr. Rooter Plumbing can help you reduce your overall usage and monthly bills without significantly changing your daily life. The first step to water conservation is scheduling a professional plumbing inspection to ensure no leaks and to repair potentially damaged components. Leverage our extensive experience and expertise to make effective upgrades that help you save water without compromising efficiency. Here are some ways we recommend conserving water at home.
Always Turn Off the Taps
A common cause of water wastage in commercial and residential buildings is failing to close water taps. If there's a dripping faucet even after it's securely closed, the threads may be worn out and need to be replaced to mitigate further damage. A single dripping faucet in your home can waste at least one gallon daily, hence the need to schedule regular plumbing inspections with a professional plumber.
Fix Small Leaks
Leaky plumbing is another cause of water wastage in homes and usually goes undetected until the damage becomes more pronounced. A simple leak can quickly become severe water damage, hence the need to hire a plumber to detect and repair leaks. Since most leaks are out of sight, it doesn't mean they don't exist. We leverage standard industry equipment to see minor leaks, alleviating the risk of mold growth or structural damage.
Time Your Showers
Showers don't waste a lot of water compared to a bath, but the shower duration determines the amount of water wasted. Longer showers waste a lot of water, and reducing your time in the shower ensures you minimize the amount of water used. You can listen to music in the shower to keep track of the time. A regular song lasts about three minutes, so limit your showers to two songs.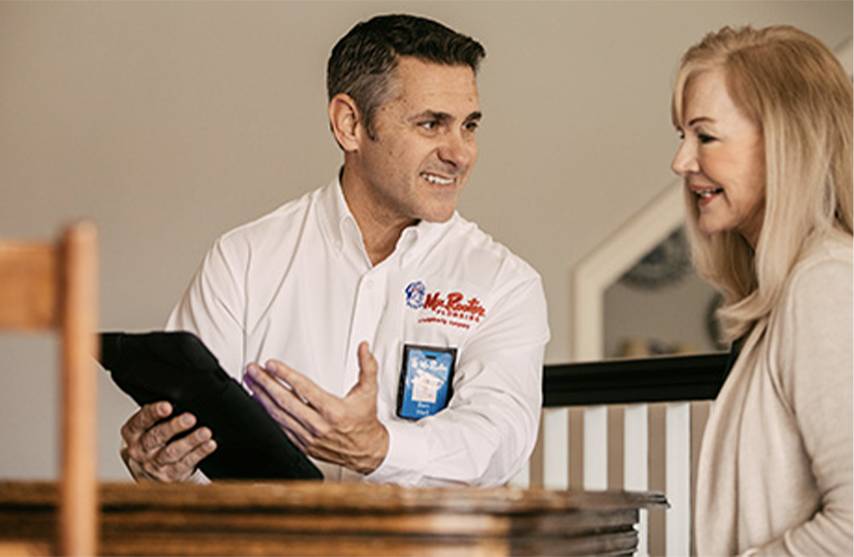 Use Appliances Less Frequently
Your washing machine and dishwasher are convenient appliances that make work easier. However, using them frequently lowers not only your energy bill but also your water bill because you'll use less water in cleaning. Sometimes it is okay to let dirty dishes and clothes pile p a little so that you can use the appliance effectively.
Invest in a Low-Flow Showerhead
A low-flow showerhead is an efficient addition to your plumbing, as it reduces the water you use in the shower and the need for regular repair. It is estimated to reduce usage by 20% compared to traditional showerheads, saving you a lot of money and water in the long run. You can consult an expert plumber to ensure you choose the right low-flow option suited for your plumbing and maximize water conservation in your home.
If you are looking for effective ways to conserve water, contact us at Mr. Rooter Plumbing and schedule a plumbing inspection with our highly trained plumbers. We provide exceptional plumbing services at competitive rates, guaranteed to help you take an active role in saving the planet.