April 19,2021
What Do Kitchen Grease Traps Do?
Grease traps are an essential part of any commercial kitchen. However, restaurant owners and managers may be unaware of exactly what they do and how to ensure that their plumbing system remains safe from the debris that finds its way into their pipes. At Mr. Rooter Plumbing of Youngstown, Ohio, we offer premium services for local property owners including grease trap maintenance, liquid waste pumping, clog removal, drain line cleaning and hydro jetting. Read below to find out what kitchen grease traps do and why it is important to keep yours clean and problem free long term.
What Is a Grease Trap?
A grease trap does exactly what its name implies. They collect grease, oil and other solid debris before it has a chance to enter your wastewater system. Without the grease trap, these materials would quickly accumulate on the interior walls of your sewer line and cause large blockages that would prevent the proper flow of water. There are three different types of grease traps in common usage, this includes:
Passive Interceptor Systems are often located underneath the sink and come in three compartments.
In-Ground Grease Traps located in-ground, and are capable of capturing grease, lint, oil and other industrial solids. Are frequently made out of fiberglass or steel and are used for larger establishments.
Grease Recovery Devices These units remove grease when using certain appliances such as a deep fryer, allowing the materials to be recycled.
When is a Grease Interceptor Used?
While some homeowners may choose to use a grease trap for added protection, the majority of interceptors are used in commercial food service. Restaurants, coffeeshops, hotels, school cafeterias and other establishments with large kitchens will likely be required by their local municipality to have a grease interceptor installed.
Common Issues with Grease Traps and Interceptors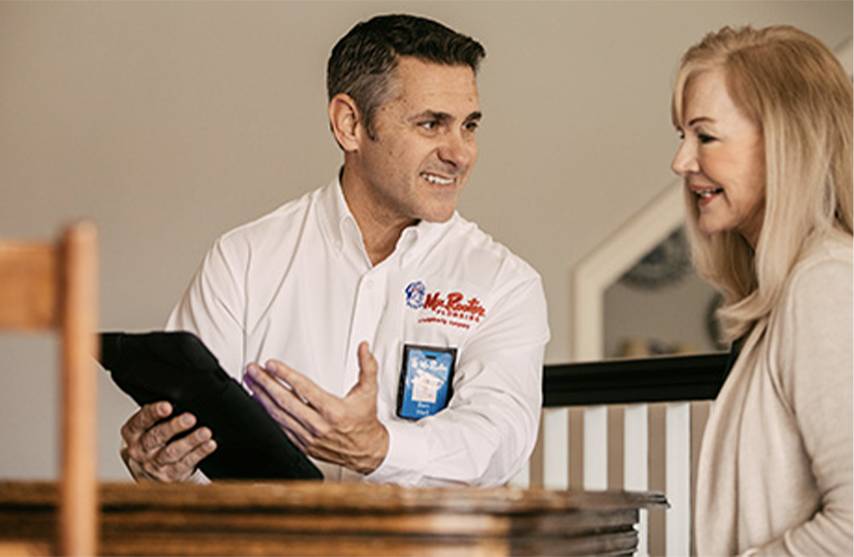 Due to the nature of grease traps, they require a lot of routine maintenance in order to function properly. They handle an extreme amount of grease, oil and other materials and need to be periodically cleaned in order to stay in good condition. If maintenance is ignored, then chronic clogs and sewage backups are sure to follow. This can lead to a loss in productivity in the kitchen as well as code violations. Avoid messes, slow draining sinks and recurring plumbing repairs. Our team will help you keep your commercial kitchen working safely and efficiently by ensuring your grease traps remain in top shape long term. Our certified plumbers will create a customized solution that fits your unique needs and budget.
Do You Need a Professional Plumber? Call Mr. Rooter Plumbing Today
Is it time for you to invest in professional plumbing services for your grease trap or commercial plumbing system? Then there is no reason to wait. Get the help you need today by calling the experts at Mr. Rooter Plumbing of Youngstown. Our certified, licensed and insured plumbers are ready to help your system stay free and clear of blockages and recurring clogs. Contact our office for more details or to schedule an appointment with an experienced plumber in your Ohio or Pennsylvania area including Youngstown, New Castle, Niles, Warren, Ellwood City, Grove City or a surrounding community.