January 31,2022
What to do During a Sewage Backup
Sewage backups can be one of the messiest and most frustrating plumbing problems to face. Unfortunately, most property owners will have to struggle with this issue at one time or another, so it's important to be prepared. Knowing what to do ahead of time can make solving the issue less stressful during a crisis. At Mr. Rooter Plumbing of Youngstown, OH, our plumbers provide dependable services for local homeowners and businesses. Whether you need an annual plumbing inspection, a clog removal, or an emergency sewer line replacement, our crew has what it takes to get the job done right. Are you the kind of person that likes to be prepared for anything? Then keep reading to find out what to do if you ever experience a major sewage backup.
What Causes Sewage Backups?
Backups can occur for many different reasons. Heavy rainstorms can flood your yard and overwhelm pipes. This is particularly true if you have leaks or cracks in the drain lateral. If you have a septic system installed, then a full tank or drain field blockage can create a backup. However, the most common reason for backups in residential properties is the development of a severe clog. These clogs can be caused by root growth or trapped debris that has accumulated over time.
What Should Property Owners Do During a Sewer Line Backup?
When faced with a major sewage backup, the first step is not to panic. If your emotions are heightened, then it isn't easy to make clear decisions. Once you've taken a few deep breathes, you can go to the breaker room and shut off the electricity. This will prevent an electrical shock or other dangerous issues. It's also a good idea to have family members leave at this time since things will likely get messy and potentially hazardous. Be sure to put on protective gear to keep yourself protected. This can include items like goggles, face masks, gloves, and rubber boots. Then, open up the windows to allow for natural ventilation. If you have a lot of water on the floor, then a wet-dry vac will enable you to remove all furniture and get rid of the water quickly before it can create major damage. You'll then need to dry out the moisture using dehumidifiers and properly sanitize the space before things can return to normal. If this process sounds overwhelming or difficult to deal with, then a restoration company can help ensure that these steps are performed correctly and in a timely manner.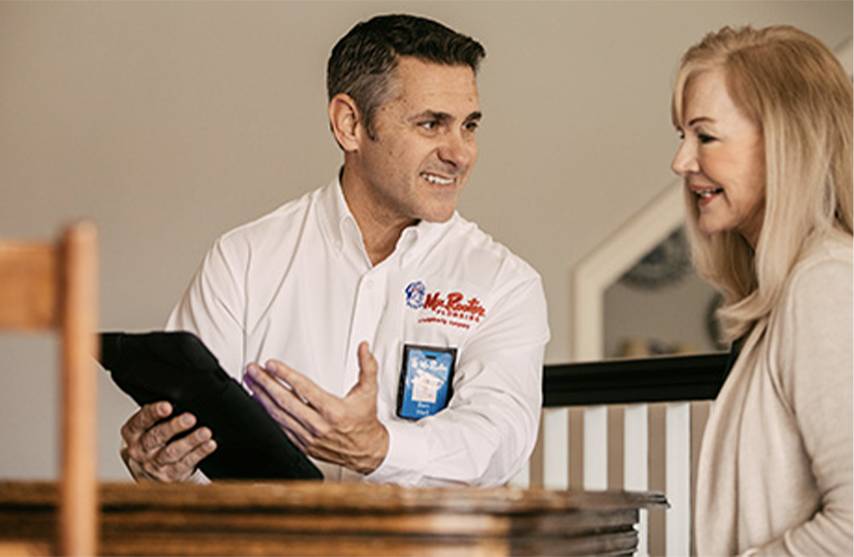 How Can a Professional Plumber Help Prevent Future Issues?
Once the mess has been properly cleaned up, you'll need to address the cause of your backup. A professional plumber will have the equipment, training, and experience needed to inspect your pipes for signs of trouble thoroughly. Once the cause has been determined, a plumber will be able to perform a clog removal, pipe repair, or sewer line maintenance service so you can get back to enjoying your plumbing system without stress or worry.
Do You Need a Pipe Repair or Sewer Line Replacement? Call Our Plumbers Today
Are you looking for experienced plumbers who can handle your sewer line issues? Then you have found the perfect solution for your problematic pipes. Contact the team at Mr. Rooter Plumbing of Youngstown, Ohio, and find out how we can get your pipes back to normal in no time. Please speak with our friendly representatives to learn more about our services or to schedule an appointment for your next plumbing inspection, clog removal, pipe repair, or sewer line replacement in Girard.