May 24,2023
What to Expect During a Camera Inspection?
Whether you've moved into a new home or owned one for a long time, routine sewer inspections are vital. All the waste from your drains and toilet ends up in the septic tank, meaning you are dealing with foul smells and messy backups. Mr. Rooter Plumbing of Youngstown eliminates manual inspections' stress and safety hazards by leveraging a sewer camera. Gone are the days of blindly handling sewer repair emergencies and causing irreversible damage. We leverage innovative technology and extensive expertise to eliminate guesswork and pinpoint the issue before things get out of hand.
Do You Need a Sewer Inspection?
Most residential and commercial buildings in unincorporated or rural areas rely on a septic system for waste management. If your system is over 20 years old, it might be time to call a professional plumbing repair service for an inspection. Although septic units can run for years without showing signs of damage, delaying maintenance allows minor problems to grow and wreak havoc.
When you schedule an inspection, we dispatch an experienced plumber to your location to ensure long-term solutions. A camera inspection reaches all the parts of your waste management system, identifying clogs, leaks, and pipe bursts before causing irreversible damage. Let's look at the camera used during a sewer inspection.
Not an Ordinary Camera
The camera our plumber in Hermitage, PA shows up to the job with differs from the digital cameras you take selfies. We use state-of-the-art cameras mounted on a flexible rod or pole, which go through the plumbing while sending back images to a monitor. These cameras have lights, ensuring clear footage of your plumbing. In addition, the cameras use an internal radio transmitter that records depth and pinpoints the location of damage or obstructions. We store the footage for reference to help homeowners when filing an insurance claim.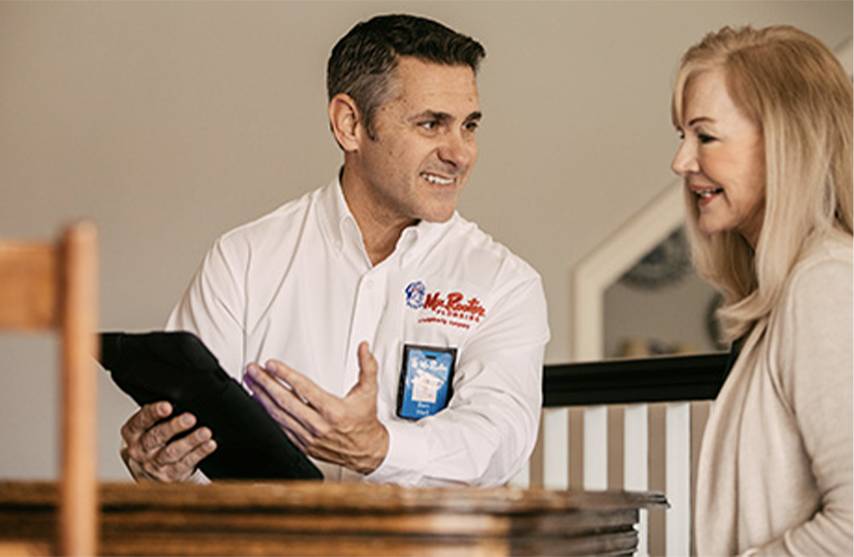 What to Expect During a Sewer Line Camera Inspection?
Sewer lines usually run five to six feet under your home or workplace. Plumbing repair service professionals often find a point of access, such as a cleanout, but if it is not possible, they figure out an alternative. In case of an obstruction, the camera won't get clear images, and the blockage must be cleared before recording starts. A thorough inspection starts once we are certain your plumbing lines are clear.
If you frequently experience plumbing leaks and pipe burst emergencies, a camera inspection eliminates guesswork and uncertainty by precisely showing technicians the location. Traditional sewer repair techniques often involved digging trenches and yard damage, which proved ineffective and costly in the long run. As mentioned, our innovative cameras record sounds, allowing us to detect leaks faster.
Do You Need to Schedule a Sewer Camera Inspection?
When your sewer system is damaged, it affects the quality of life and the environment. Schedule a sewer camera inspection and solve the problem. Contact us today at Mr. Rooter Plumbing of Youngstown and talk to our plumbing repair service professionals. We guarantee top-notch services to improve your plumbing system's efficiency and longevity.