March 03,2022
Why Should You Get Basement Inspection?
A home inspection is important for people looking to sell their house, build a new home, or maintain a home in good condition. A basement inspection is considered the most important since most issues like foundation problems, mold growth, and others are found in the basement. Although home inspections are considered a costly endeavor, this is a misconceived notion that can lead to significant property damage and other hazards. To prepare for your next inspection, onboard a professional plumber from Mr. Rooter Plumbing for top-notch basement waterproofing and other maintenance services.
While most people view home inspections as a waste of time and resources, failure to have your home regularly inspected can lead to devastating damage, which is not ideal. A plumber can help you address the issues highlighted by the inspection, alleviating any safety concerns you are harboring. Here are some of the reasons why you should hire a plumber for foundation waterproofing and other maintenance services before your next inspection.
Identifies Foundation Issues
Regardless of how strong and stable your foundation is, it is bound to become weak and develop cracks over time due to exposure to moisture and weather. If the problem is not handled in time, it can lead to significant damage and deteriorate the quality of your interior space. Mr. Rooter Plumbing has a dedicated team of experts who are ready to provide professional foundation waterproofing services as you prepare for a home inspection. Our plumber uses cutting-edge equipment to identify cracks and other concerns that threaten the safety and durability of your home.
Prevent Pest Infestation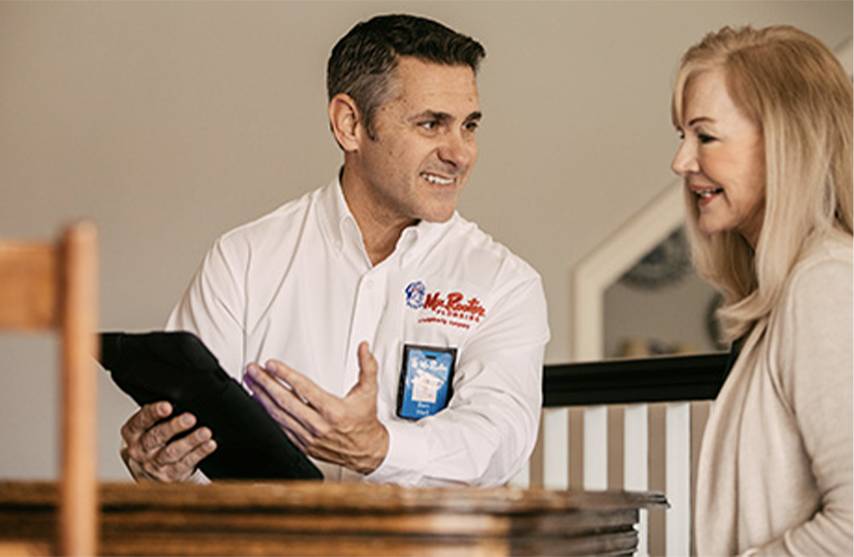 Home inspectors know how to detect signs of a pest infestation, including rodents and insects. These critters are usually attracted by moisture on your walls and can lead to the destruction of your entire structure. A plumber can help you prevent a full-on pest infestation through basement waterproofing, eliminating moisture seeping in the crevices found in the basement. This goes a long way in preventing irreversible damage that can cost you thousands of dollars in repairs and replacements.
Identifies Water Leaks
Older homes are often faced with the challenge of leaky plumbing systems. A basement leak is not easily detected and can cause a lot of damage if not detected in time. If you are looking forward to a home inspection, Mr. Rooter Plumbing can have an experienced plumber at your location to help you prepare. We use state-of-the-art equipment to detect areas affected by water, such as cracks, window wells, and pinholes, among others. We believe that the most effective solution to water damage is detecting it early.
Prevents Mold and Mildew Growth
The growth of mold and mildew can lead to severe health complications, and that's why a home inspection is recommended to address the issue before it gets out of hand. Basement waterproofing goes a long way in ensuring your interior space is not affected by mold, preventing a range of health hazards like eye irritation, breathing issues and skin rashes. Contact us today at Mr. Rooter Plumbing for quality plumbing service, guaranteed to improve the state of your home before the next inspection.